Week 1:
January 1st to January 7th
1 Homemade Hawaiian Pizza; Dough recipe found
here
.
2 Nathaniel napping (taken using my phone camera). He might already be a toddler but he still has adorable, chubby baby fingers :)
3
Standing
up on his own!
4 Nathaniel and my mom's dog Spencer
5 Nathaniel and his cousin Daniel
making a mess
by emptying the drawer
6 A
trip
to the Indianapolis Children's Museum with my brother-in-law
7 On the way to brunch with a high school friend
Week 2:
January 8th to January 14th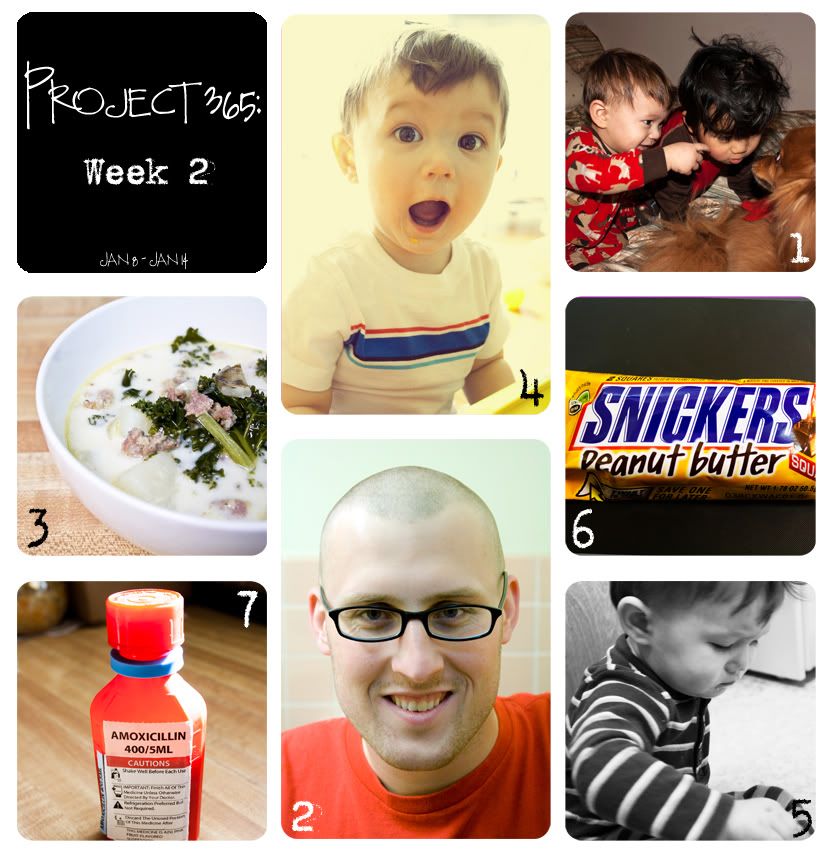 1
Cousins
; the morning we left Indiana to go back to California
2 My first
haircutting experience
. I tried to give my husband a fade-in haircut and it was a major fail. He ended making me shave his (sexy) hair instead :(
3 Homemade Zuppa Toscana for dinner
4 He looks
adorable
but he's actually screaming at me because I tapped him (while playing) so he would look at the camera.
5 My cranky, snotty baby :( After two days of runny nose and bad cough, I finally took him to see his pediatrician. Nathaniel has his first ever ear infection.
6 My husband came home from work and this was all he would talk about. We finally went to the grocery store (30 minutes before Nathaniel's bedtime!) to satisfy his craving.
7 Nathaniel's antibiotics. What a necessary evil... I know it's making his ear infection better but I hate it. Nathaniel has a very (and I mean VERY) sensitive skin and after only a day of taking this and despite my effort to prevent the nasty "side effect" of diarrhea by giving him plenty of yogurt, Nathaniel now has a really, REALLY bad diaper rash. We just got rid of this just a few weeks ago and we are now back to painful,
raw
, bleeding :( behind...