Week 12:
March 19th to March 25th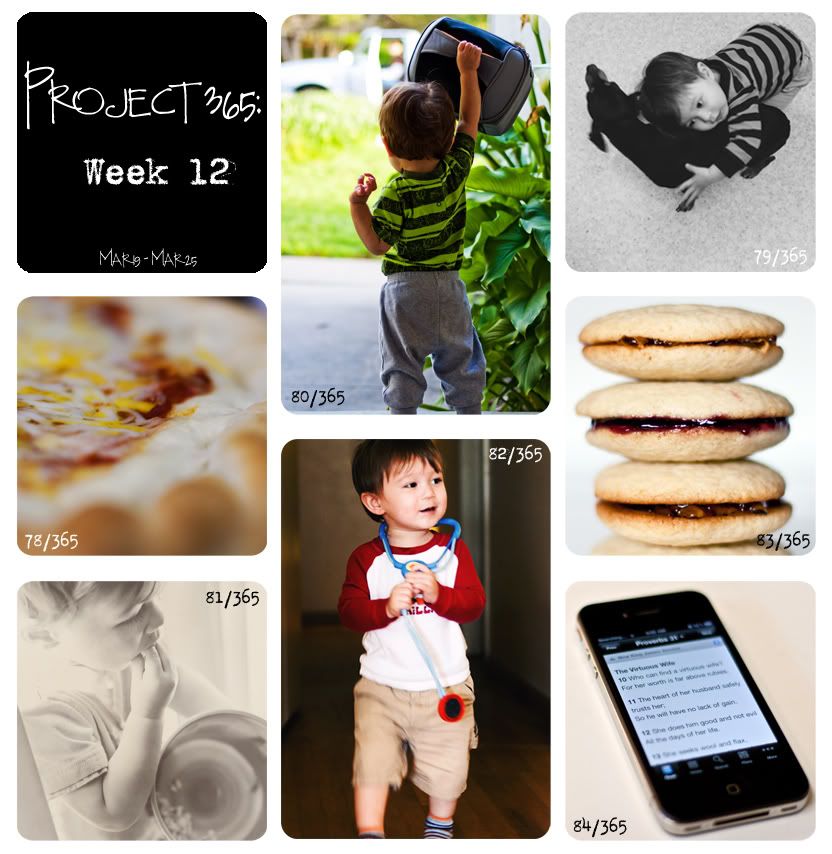 78 Stuffed meat-lovers pizza with tomatoes and mushrooms from
Papa Murphy's
. A friend spent the day with us and we were supposed to have Seafood Gumbo for dinner. However, I got outnumbered and we had pizza instead. I love Papa Murphy's pizza. You can guarantee it's always fresh ingredients!
79 Nathaniel loves his puppy very much! Some days the dog gets more hugs and kisses than me.
80 Nathaniel
wanted to go to work
with his Daddy (you can see my husband in his truck in the background). He even brought his Dad's lunch bag! And he said "Wub Yu!" (love you) for the first time :)
81 The little one insisted he wants to eat popcorn while holding the bowl himself. It was quite a mess but our dog loved following his trail.
82 When did he suddenly become a BIG boy? Nathaniel put the toy stethoscope properly around his neck by himself. Actually, that's his current obsession: wearing everything around his neck.
83
Jam Sandwich Cookies
; Delicious and very easy to make with ingredients easily found in your kitchen!
84 I've been relying too much with my iPhone with taking photos, videos and even my daily Bible reading. In the photo, it is showing one of my must-be-like-this scriptures:
Proverbs 31:10-31
Linking up to: