This handsome little nephew-fella is turning two this Wednesday and so we celebrated his birthday yesterday. Nathaniel and I are very grateful we were able to come here in Indiana to share this happy occasion (thanks, Mom!).
The theme was
Go Diego, Go!
and he picked this cake design. I was a little nervous making my first "face" cake, fearing that it will either be awesome and somewhat resemble the character or bomb it and look completely nothing like Diego!
10-inch Dark Fudge Chocolate Cake
Daniel thought it was him, which is completely acceptable, too! But once my sister told him who it was supposed to be, he recognized his favorite cartoon character.
My sister with her beautiful family and a little one on the way! I cannot wait to meet my
niece
Isabel this November :)
One of my favorite part of the party is the dessert! We had
Halo-Halo
---a Filipino dessert that literally means 'mixed.' It's shaved ice with (regular or coconut) milk and toppings of your choice such as jack fruit,
macapuno
(sweetened coconut flesh), coconut "jello", purple yam (my favorite!), sweet beans, tapioca, flan, etc. Now do you get why it's called
halo-halo
? :) It was a perfect way to cool off on a hot summer afternoon.
Nathaniel had a great time and later that evening,
he
asked to be put to bed 30 minutes before his bedtime.
Daddy and birthday boy sitting on the deflating bouncy house
While cleaning up, the boys wandered off to the park and I felt bad leaving Daniel's Lolo (grandfather) to watch the two
hyperactive
boys. Then I remembered he raised twins! My brother-in-law is a twin; in fact, by the time they were this age, his parents had a newborn, too!
They also played with the leftover ice and started using one of D's new birthday toys (beach toys).
They discovered it's slippery when they stepped on the ice and didn't mind slipping at all.
We obviously had a great time as evident with my brother-in-laws photos below! :P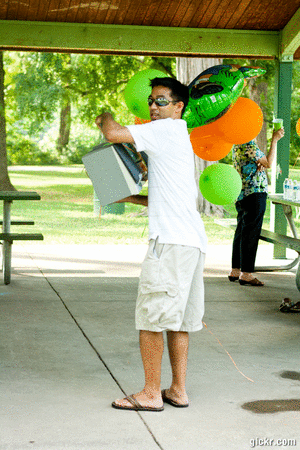 For more great captures, go to Hery Sugianto's photography
website
. I want his camera and all his lenses! Oh, someday.
Linking up to: